Sermons
Latest:
Discontent
Dr. Greg Jones
09/20/2020

Christian Education and Fellowship
All Are Welcome
ALTHOUGH WESTMINSTER'S PHYSICAL BUILDING IS TEMPORARILY CLOSED, OUR MINISTRY CONTINUES! DETAILS AND UPDATES BELOW

New here? Learn more about us and where there's a place for you. »
Use our interactive building map to explore the church. »
What's Going On?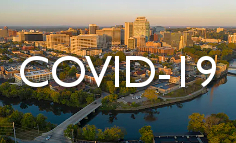 "COVID-19 slammed our sanctuary doors shut six months ago. Following the advice of public health officials plus two infectious disease physicians within our congregation, we decided to temporarily suspend in-person worship. We immediately switched to recording a weekly worship service and providing it online." Click here to continue reading the latest letter from Greg Jones dated Tuesday, September 15, 2020.

What Can We Do to Help Others?
There are ways that we can help others, even during self-quarantine and social distancing. In these challenging times, it can be difficult to see how we might directly help those in need in our community and abroad. Vulnerable populations – those who are homeless, hungry, out of work, living in communal settings – need our help now more than ever.
Support Locally
Click here for a list of needs that could be met within the guidelines of Delaware's travel and community contact limitations. These organizations are considered essential social services in Delaware and are exempt from the restrictions for Delawareans who are traveling to make donations or deliveries.

Support Globally
The global impact of COVID-19 is unprecedented. For those already living in vulnerable communities around the world, the effects of this crisis are even more devastating. In response, Westminster's Church in the World Committee is offering a special ECHO Giving campaign. Gifts can be designated to directly support emergency relief projects of partners in Congo, Guatemala, Palestine, and Syria. For details and to contribute, please use this form.

With deep gratitude for your generosity and compassion. Thank you for being part of God's light shining through the darkness.
[ Details ]
Click here to watch our virtual service on YouTube for Sunday, September 20. To enhance your worship experience, we also encourage you to download the accompanying Worship Bulletin.

At the end of the Worship Bulletin, we have included this week's resources from Illustrated Ministry for worshipping with children. We hope you will use them for participation in this service or for family devotions at home throughout the week.

Although we will not be gathering as a church family for worship while Westminster is temporarily closed, we can still nurture our spiritual lives. An abbreviated form of worship will be provided here each Sunday morning as a video. Our pastors will read scripture, pray, and deliver a sermon so that you may still experience worship, but in the safety of your home.
[ Details ]

Virtual Trivia Night Continues!
Wednesday, September 23
7:00 – 7:45 PM via Zoom
Have you joined in the trivia fun yet? Now is your chance! This month's theme is all about food, drink, and Disney! Virtual trivia night is appropriate for the entire family and no experience is required. Extending this invitation to family and friends is encouraged; there is room for all. RSVP to Jenn Blackford. Must have two electronic devices to play (computer, tablet, smart phone).

Adult Education: Won Buddhism
Sunday, September 27, 1:00 PM
on Zoom
Zoom Meeting ID: 493 720 0361
Presented by Grace Song, Won Institute of Graduate Studies
Join us on Zoom for the first Sunday Seminar of the fall semester, and learn about Won Buddhism - a religion that emerged in Korea in 1916 with the enlightenment of its founder, Master Sotaesan. One of the unique characteristics of Won Buddhist temples is that they do not place a buddha statue at the altar but, instead, enshrine a circle image called the Il-Won-Sang (lit. one circle image). The circular symbol represents the awakened mind of Buddha and also symbolizes the interdependence of all things in the universe. In this talk, Grace will share how Won Buddhism has significantly changed her life and discuss Won Buddhism's relevance in contemporary society.

Better Days Grief Support Group
Sundays, Sept. 27 – Nov. 15
(8 consecutive weeks)
10:30 AM on Zoom
Are you grieving? Many of us have lost a loved one over the past year or two. Society expects us to be better in two months. Our hearts and minds are unable to go back to normal that quickly. If you have suffered the loss of a loved one, please consider joining the Better Days Grief Support Group, where we will discuss many aspects of our grief journeys and engage in thought-provoking exercises. We wholeheartedly invite you to this healing process. Please email Jill Getty to register.

Online Bible Study
Our Bible study meets online in our Zoom classroom! Join this LIVE meeting from 6:00 – 7:00 PM on Wednesdays for fellowship, Bible study, and prayer. New faces are always welcome! (Please note that our Thursday Bible study group has decided to take a "sabbath" for the month of August. We'll be back at 12:30 PM on Thursdays starting September 3 for the second half of Exodus.) Check the Weekly Word e-newsletter or Sunday worship bulletin for updates. Not receiving our e-newsletter? Sign up here.

Women's Online Community Group
The women of Westminster connect for heartfelt and enriching discussions on the 2nd and 4th Thursday of the month from 5:00 – 6:00 PM. The Rev. Jill Getty is facilitating this group on Zoom. If interested, please email Jill and she will add you to the weekly participant email list to receive the Zoom link and password.

Youth Ministry (Grades 6 – 12)
180 Youth Ministry will resume in September. See the Weekly Word e-newsletter or our Instagram account (@180youth_wpc) for updates.
[ Details ]
Thursday Evening Education Events
Westminster's Peace & Justice Work Group is excited to continue a program of education events on Thursday evenings. While the effects of the pandemic continue, these classes/discussions will take place online.
Advocating for School Equity in the Midst of Virtual Learning
Thursday, September 24, 7:00 p.m.
via Zoom
Building People Power has launched a new issue campaign for SAFE Schools (Safe * Accountable * Forward * Equitable). Sarah Green will present on the goals, policy targets and plans of this advocacy campaign, including the urgent need to address equity in the COVID response and virtual learning. Come learn what's happening in (or outside!) our schools. And if inspired, find out how you can get involved.
Join us at the Zoom link above, or go to zoom.us/join, enter Meeting ID 860 2752 1655 and click "Join." Attendees will be admitted to the waiting room and then the host will admit them. Look for more topics and information on the WPC Facebook page.
[ Details ]
---