Sermons
Latest:
Time in the Wilderness
The Rev. Dr. Greg Jones
02/21/2021

Christian Education and Fellowship
All Are Welcome
COVID-19 LIMITED OFFICE HOURS: TUESDAY – THURSDAY, 9:00 AM – 4:00 PM

New here? Learn more about us and where there's a place for you. »
Use our interactive building map to explore the church. »
What's Going On?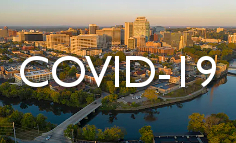 Message from Gregory Knox Jones
"Our Lenten journey is in its early stages. If you have begun a new discipline or given up something, we are only a week into this season and it may seem as if you have a long road ahead." Click here to continue reading the latest letter from Greg Jones dated Tuesday, February 23, 2021.
Ways to Help Others During COVID
The global impact of COVID-19 is unprecedented. For vulnerable populations – those who are homeless, hungry, out of work, living in communal settings – and for those living in vulnerable communities around the world, the effects of this crisis are even more devastating. They need our help more than ever.
Support Locally – Click here for a list of needs in our local community.

Support Globally – Gifts can be designated to directly support emergency relief projects of partners in Congo, Guatemala, Palestine, and Syria. For details and to contribute, please use this form.

With deep gratitude for your generosity and compassion. Thank you for being part of God's light shining through the darkness.
[ Details ]
Livestreamed/Recorded Worship Service
We livestream our 9:00 AM worship service on Sunday mornings! Access our YouTube channel as early as 8:50 AM. When you get to our YouTube channel, you will see a large box in the center of the screen that says "Live." A recorded version will be provided on our YouTube channel after the livestream. Please also visit the Time with Our Children playlist to view the children's message (your little ones will love these!). To enhance your worship experience, we encourage you to download the accompanying Worship Bulletin. At the end of the Worship Bulletin, we have included this week's resources from Illustrated Ministry for worshiping with children.
In-Person Worship Service
Our sanctuary is open on Sunday mornings for one worship service at 9:00 AM. Attendance is limited and an online reservation (one per family) is required. When we reach the maximum number of reservations we can host, the reservations will close. We have established a number of guidelines for your safety, which include social distancing, wearing a facial mask/ covering, and the use of no-touch sanitizing stations. A virtual livestreamed/ recorded option will continue to be available on the homepage of our website and YouTube. IMPORTANT: If you would like to join us for in-person worship, please subscribe to our weekly e-newsletter; the link to make a reservation is only being provided in our e-newsletter.
[ Details ]

Peace & Justice Thursday Evening Events
Building People Power Annual Kickoff
Thursday, February 25, 6:00 PM
The Westminster Peace & Justice Work Group encourages everyone to participate in this event. Register today and come see how you can connect with others to create meaningful change in support of racial justice in Delaware. The first hour provides an overview of the various initiatives; the second hour offers two 30-minute breakout groups each focused on a specific initiative of interest that you choose. Join us for part or all!
Bible Box for Children
Bible Box is back for a second semester! This creative and interactive YouTube series for children age 2 – grade 5 combines Bible stories, crafts, and music. Episodes will be uploaded each Sunday afternoon through the last week of April. Parents/Guardians who have signed up to participate may pick up their boxes at the front desk during our limited office hours (Tuesday – Thursday, 9:00 AM – 4:00 PM). If you have questions about the program or would like to sign up to participate, please email Alexis Droke with "Bible Box" in the subject line.
Time with Our Children
Prior to COVID-19, every Sunday our congregation received a dose of joy when our children gathered up at the front of our sanctuary to hear and respond to a carefully-crafted, child-friendly message from one of our pastors. We wanted to continue offering these special messages for children in a safe way, so Time with Our Children has gone virtual. Be sure to check out these creative videos for your little ones on YouTube!
Presbyterian 101 Podcast
Episode 1 – By Faith Alone: The Reformation & Beyond
Episode 2 – By Grace Alone: What Presbyterians Believe
Whether you are a lifelong Presbyterian or are new to this Christian tradition, the Rev. Sudie Niesen Thompson is here to answer (some) of your questions. Tune in to our Presbyterian 101 podcast and learn a bit about our denomination's history, theology, and governance ... in other words, what it means to be Presbyterian.
Midweek Manna Bible Study
Wednesdays, 12:00 – 1:00 PM
on Zoom
Join the Rev. Sudie Niesen Thompson for "Midweek Manna" on Wednesdays from 12:00 to 1:00 PM on Zoom. The group is continuing our study of Exodus and will soon decide where to turn next on our journey through Scripture. Join us! New faces always welcome! Please email Sudie for the Zoom information.

Women's Online Community Group
The women of Westminster connect for heartfelt and enriching discussions on the 2nd and 4th Thursday of the month from 5:00 – 6:00 PM. The Rev. Jill Getty is facilitating this group on Zoom. If interested, please email Jill and she will add you to the weekly participant email list to receive the Zoom link and password.

Youth Ministry (Grades 6 – 12)
180 Youth Ministry meets every week, either virtually or in person (socially distanced and masked). See the Weekly Word e-newsletter or our Instagram account (@180youth_wpc) for updates.
[ Details ]
COVID-19 has slammed the door on being inches from one another's faces and touching. So, this year, we will not have an in-person Ash Wednesday service. In its place, we hope you will acknowledge this day in the safety of your home.

The Rev. Sudie Niesen Thompson, our Associate Pastor, has created a brief video focused on Ash Wednesday, and a self-led prayer service. On February 17, you can watch the Ash Wednesday video on our YouTube channel and download the service by clicking here.
[ Details ]
Go to the full Calendar of Events »
---