Sermons
Latest:
Two Prophets of Our Time
The Rev. Dr. Greg Jones
01/16/2022

Christian Education and Fellowship
All Are Welcome
CURRENT CHURCH OFFICE HOURS: TUESDAY – FRIDAY, 9 AM – 4 PM
We are committed to your safety during the pandemic! Please see our COVID-19 Mask Policy and Safety Measures (updated 1/13/2022).

New here? Learn more about us and fill our our visitor form. »
What's Going On?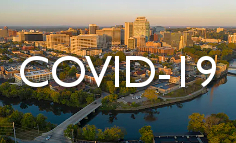 Message from Greg Jones
"Are you familiar with the Hebrew words: tikkun olam? It is the work Jews are called to do to "repair the world" or "heal the world." The concept is what we mean when we talk about bringing light to darkness, sharing God's love, striving for justice and working for peace." Click here to continue reading the latest letter from the Rev. Dr. Gregory Knox Jones dated Tuesday, January 25, 2022.
Ways to Help Others During COVID
The global impact of COVID-19 is unprecedented. For vulnerable populations – those who are homeless, hungry, out of work, living in communal settings – and for those living in vulnerable communities around the world, the effects of this crisis are even more devastating. They need our help more than ever.
Support Locally – Click here for a list of needs in our local community.

Support Globally – Gifts can be designated to directly support emergency relief projects of partners in Congo, Guatemala, Palestine, and Syria. For details and to contribute, please use this form.

With deep gratitude for your generosity and compassion. Thank you for being part of God's light shining through the darkness.
[ Details ]
Livestreamed/Recorded Worship Service
We livestream our 9 a.m. worship service on Sunday mornings! Access our YouTube channel as early as 8:50 a.m. When you get to our YouTube channel, you will see a large box in the center of the screen that says "Live." A recorded version will be provided on our YouTube channel after the livestream. Please also visit the Time with Our Children playlist to view the children's message (your little ones will love these!). To enhance your worship experience, we encourage you to download the accompanying Worship Bulletin for 1/23/2022. The resources for children attached at the end of the bulletin are provided by Illustrated Ministry. Please print them to participate in this service or for family devotions throughout the week.
In-Person Worship Services
We are open on Sunday mornings for two worship services at 9:00 a.m. (in the sanctuary) and 11:15 a.m. (in Rodney Chapel). Before arriving, please be sure to read our COVID-19 Mask Policy and Safety Measures. To stay up-to-date on developments and changes to this policy, please subscribe to our weekly email newsletter, the Westminster Weekly Word.
[ Details ]

One Book, One Church
Sign Up for a Discussion Group!
Thursday, January 27, 7 p.m. via Zoom
OR
Monday, January 31, 5 p.m. via Zoom
Are you participating in our all-church read of The Sum of Us? Have you found yourself writing notes in the margins, Googling the events Heather McGhee references, or sharing with others something you learned from the book? There's A LOT to discuss! Here's your chance to talk about The Sum of Us with others in our family of faith. Whether or not you've finished the book, we hope you'll join us for a One Book, One Church discussion group! You can sign up to participate in a group via SignUpGenius. Click here, then enter access code: McGhee
Confirmation Class for High School Youth
Sundays, 10–11 a.m.
Confirm not Conform is the curriculum for our 2021-2022 Confirmation Class for high school youth (grades 9-11). All participants will have opportunities to learn, grow and ask lots of questions. By the end of the class in March, personal faith statements will be written and participants will be offered an opportunity to join church after meeting with the WPC Session. Class leaders are excited to begin the sessions and hope to see many youth choose this opportunity. Please email Sue Spilecki to register for the class.
Time with Our Children
Prior to COVID-19, every Sunday our congregation received a dose of joy when our children gathered up at the front of our sanctuary to hear and respond to a carefully-crafted, child-friendly message from one of our pastors. We wanted to continue offering these special messages for children in a safe way, so Time with Our Children has gone virtual. Be sure to check out these creative videos for your little ones on YouTube!
The Prayground
Sundays, 9 a.m., Community Hall
Come to The Prayground and worship while you wiggle! The newest innovation by our education team, The Prayground is a specially designed worship space for families with children who listen best when they have room to move and create freely. In Community Hall, kids can color, play quiet games, tumble, and ribbon-dance to the service hymns as the live-streamed service plays on the projector screen. Parents of course can join in on the fun, or sit comfortably and follow along. Masking (for those over age 2) and social distancing are required.
Wednesday Afternoon Bible Study
Wednesdays, 12–1 p.m., Zoom
The Wednesday afternoon Midweek Manna Bible Study, facilitated by the Rev. Sudie Niesen Thompson, has begun a short study on Paul's Letter to the Philippians. On January 26, Midweek Manna will take on something a bit different ... a novel! We will discuss The Book of Longings by Sue Monk Kidd, which tells the story of a remarkable young woman named Ana who, in the author's imagination, becomes the wife of Jesus of Nazareth. Pick up a copy of this engaging novel and join us for our conversation on January 26! New faces always welcome. Please email the Rev. Sudie Niesen Thompson for more information.
Thursday Evening Bible Study
Thursdays, 6–7 p.m., on Zoom
This Bible study, facilitated by Randy Williamson and Mary Anne Peters, continues and new faces are always welcome. Please email the Rev. Sudie Niesen Thompson for more information.
Women's Online Community Group
2nd and 4th Thursday, 5–6 p.m., Zoom
The women of Westminster connect for heartfelt and enriching discussions on the 2nd and 4th Thursday of the month from 5 to 6 p.m. The Rev. Jill Getty facilitates this group on Zoom. If interested, please email Jill and she will add you to the weekly participant email list to receive the Zoom link and password.
Men's Fellowship Group
Saturdays, 9:00–10:30 a.m.
The Men's Fellowship group has resumed. Coffee and refreshments provided. For more information, please email Bill Francis.
Presbyterian 101 Podcast
Episode 1 – By Faith Alone: The Reformation & Beyond
Episode 2 – By Grace Alone: What Presbyterians Believe
Whether you are a lifelong Presbyterian or are new to this Christian tradition, the Rev. Sudie Niesen Thompson is here to answer (some) of your questions. Tune in to our Presbyterian 101 podcast and learn a bit about our denomination's history, theology, and governance ... in other words, what it means to be Presbyterian.
[ Details ]
Please remember to bring new gloves, mittens, hats, and/or scarves to Westminster during the month of January to benefit men, women and children in need in our area. Collection boxes are set up inside the entry doors and by the reception desk. Bring your donations anytime you plan to be in or near church and we will deliver them to the Friendship House Clothing Bank to distribute to those in need. Thank you for providing warmth to those battling the winter elements!
[ Details ]
---