Sermons
Latest:
Where is Your Focus?
Dr. Greg Jones
10/18/2020

Christian Education and Fellowship
All Are Welcome
ALTHOUGH WESTMINSTER'S PHYSICAL BUILDING REMAINS CLOSED TO THE PUBLIC, OUR MINISTRY CONTINUES! DETAILS AND UPDATES BELOW

New here? Learn more about us and where there's a place for you. »
Use our interactive building map to explore the church. »
What's Going On?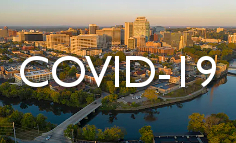 Message from Gregory Knox Jones
"After months of planning and praying, we finally did it. We took the sanctuary out of mothballs and swung wide the doors for our first in-person worship service in seven months. Everyone who attended wore masks and practiced social distancing as both a safety precaution and a show of respect for others." Click here to continue reading the latest letter from Greg Jones dated Tuesday, October 20, 2020.

Ways to Help Others
The global impact of COVID-19 is unprecedented. For vulnerable populations – those who are homeless, hungry, out of work, living in communal settings – and for those living in vulnerable communities around the world, the effects of this crisis are even more devastating. They need our help more than ever.
Support Locally – Click here for a list of needs in our local community.

Support Globally – Gifts can be designated to directly support emergency relief projects of partners in Congo, Guatemala, Palestine, and Syria. For details and to contribute, please use this form.

With deep gratitude for your generosity and compassion. Thank you for being part of God's light shining through the darkness.
[ Details ]
Virtual Worship Service
Click here to watch our recorded service on YouTube for Sunday, October 18 (first one at the top of the playlist). To enhance your worship experience, we also encourage you to download the accompanying Worship Bulletin. At the end of the Worship Bulletin, we have included this week's resources from Illustrated Ministry for worshiping with children. We hope you will use them for participation in this service or for family devotions at home throughout the week. We hope to begin live-streaming the worship services on Sunday, November 1. That will allow you to watch the service live at 9:00 AM or any time after that.

In-Person Worship Services
We will reopen our sanctuary on Sunday mornings for one worship service at 9:00 AM beginning Sunday, October 18. Attendance is limited and an online reservation (one per family) is REQUIRED. When we reach the maximum number of reservations we can host, the reservations will close. We have established a number of guidelines for your safety, which include social distancing, wearing a facial mask/ covering, and the use of no-touch sanitizing stations. Click here to read all of the guidelines. In-person worship in the sanctuary does not replace our online worship service, which will continue to be available on the homepage of our website.

IMPORTANT: If you would like to join us for in-person worship, please subscribe to our weekly e-newsletter; the link to make a reservation is only being provided in our e-newsletter.
[ Details ]

Adult Education: How the Opioid Crisis Affects All of Us
Sunday, October 25, 11:00 a.m.
on Zoom
Zoom Meeting ID: 493 720 0361
Presented by Karl Fischer with atTAck addiction
Delaware is the first in the nation in prescribing of high-dosage, long-acting opioids for several years. Delaware is second in the nation in opioid deaths per capita, up from fifth in 2017. When we look at numbers in 2020 versus 2019, we are not getting better. Learn from atTAck addiction how this can affect all of us – from the suburbs to the inner city and rural areas – and trends and warning signs and what you can do to be prepared if a loved one should be impacted.
Presbyterian 101 Podcast
Episode 1 – By Faith Alone: The Reformation & Beyond
Now available on YouTube! Tune in!
So, you're Presbyterian. Or – at least – you've found a spiritual home at Westminster Presbyterian Church. But what does that even mean? Have you ever wondered what makes our denomination unique? Or where we fit in the broader Christian community? Or – here's a big one – what Presbyterians believe? Whether you are a lifelong Presbyterian or are new to this Christian tradition, you may be wondering about that not-so-little word in the middle of our congregation's name. Well, the Rev. Sudie Niesen Thompson is here to answer (some) of your questions. Tune in to our Presbyterian 101 podcast and learn a bit about our denomination's history, theology, and governance ... In other words – what it means to be Presbyterian.
Midweek Manna Bible Study
New Day, New Name, New Facilitator, Same Study
Wednesdays, 12:00 – 1:00 PM
on Zoom
The Thursday "Eat & Exegete" Bible Study has a new meeting time, a new name, and a new facilitator. Join the Rev. Sudie Niesen Thompson for "Midweek Manna" on Wednesdays from 12:00 to 1:00 PM on Zoom. The group will continue its study of Exodus, and then decide where to turn on our journey through Scripture. Join us! Please email Sudie for the Zoom link.

Sunday School for Tweens
Sunday, November 1, 4:15 – 5:00 PM
on Zoom
Tweens (grades 5-8) are invited to join us for Colaborate Sunday School. All questions and curiosity about faith and God are so important. Your stories, Bible and the Colaborate booklet, which was sent in August, are all you will need for this time together. Please email Susan Alexander if you would like to receive a booklet. Please send your preferred email address for receiving the Zoom invitations to Alexis Droke with "Colaborate Tweens" in the subject line. Remaining dates for Zoom Sunday School are November 1 and 15, and December 13.

Women's Online Community Group
The women of Westminster connect for heartfelt and enriching discussions on the 2nd and 4th Thursday of the month from 5:00 – 6:00 PM. The Rev. Jill Getty is facilitating this group on Zoom. If interested, please email Jill and she will add you to the weekly participant email list to receive the Zoom link and password.

Youth Ministry (Grades 6 – 12)
180 Youth Ministry meets every week, either virtually or in person (socially distanced and masked). See the Weekly Word e-newsletter or our Instagram account (@180youth_wpc) for updates.
[ Details ]
Thursday Evening Education Events
Westminster's Peace & Justice Work Group hosts education events on Thursday evenings. While the effects of the pandemic continue, these classes / discussions will take place online.
UrbanPromise Virtual Banquet
Thursday, October 22, 7:00 p.m.
on Zoom
Westminster's Peace & Justice Work Group proudly supports the 2020 virtual UrbanPromise banquet. The banquet is a celebration of abundant life through the voices of children, teens, parents, and staff. Westminster has embraced this inner-city Christian mission since 1998. Our hearts have been touched by personal stories of success and hope. We hope you will experience this dynamic banquet with us!
Reimagine Probation – Improve Lives
Thursday, October 29, 7:00 p.m.
on Zoom
There are many aspects of Delaware's criminal justice system that cry out for reform. For individuals returning home after incarceration, the hurdles to successful re-entry are substantial as they struggle to find housing, transportation, medical care and employment at a livable wage. The current probation system and its myriad of reporting requirements, meetings, costs for treatment, curfews and surveillance are insurmountable hurdles for too many. Can we work toward a better system? Join us as we hear Javonne Rich of Smart Justice Delaware describe a series of proposed reforms that would benefit us all.
To participate in these discussions, join us at the Zoom link above, or go to zoom.us/join, enter Meeting ID 860 2752 1655 and click "Join." Look for more topics and information on the WPC Facebook page.
Conversations about Racism
October 4 – November 14, 2020
Join YWCA for virtual Dialogue to Action! Sessions run for six consecutive weeks. Various days and times available. Click here for more information and to register.
[ Details ]
---