Sermons
Latest:
If
The Rev. Dr. Greg Jones
05/15/2022

Christian Education and Fellowship
All Are Welcome
We are committed to your safety during the pandemic!
Please see our COVID-19 Mask Policy and Safety Measures
(
NEW

policy effective March 29, 2022).

New here? Learn more about us and fill our our visitor form. »
What's Going On?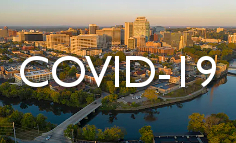 Message from Greg Jones
"This is a message I was hoping I would never need to write. On Sunday, we honored Westminster's former pastor, Jon Walton, by naming Community Hall after him. We celebrated his ministry with a reception – the first time we have held a large gathering in what is now Jon M. Walton Community Hall since the beginning of the pandemic." Click here to continue reading the latest letter from the Rev. Dr. Gregory Knox Jones dated Tuesday, May 17, 2022.
Ways to Help Others During COVID
The global impact of COVID-19 is unprecedented. For vulnerable populations – those who are homeless, hungry, out of work, living in communal settings – and for those living in vulnerable communities around the world, the effects of this crisis are even more devastating. They need our help more than ever.
Support Locally – Click here for a list of needs in our local community.

Support Globally – Gifts can be designated to directly support emergency relief projects of partners in Congo, Guatemala, Palestine, and Syria. For details and to contribute, please use this form.

With deep gratitude for your generosity and compassion. Thank you for being part of God's light shining through the darkness.
[ Details ]
Livestreamed/Recorded Worship Service
We livestream our 9:00 a.m. worship service on Sunday mornings! Access our YouTube channel as early as 8:50 a.m. When you get to our YouTube channel, you will see a box at the top of the screen that says "Live." A recorded version will be provided on our YouTube channel after the livestream. Please also visit the Time with Our Children playlist to view the children's message (your little ones will love these!). To enhance your worship experience, we encourage you to download the accompanying Worship Bulletin for 5/22/2022. The resources for children attached at the end of the bulletin are provided by Illustrated Ministry. Please print them to participate in this service or for family devotions throughout the week.
In-Person Worship Services
We are open on Sunday mornings for two worship services at 9:00 a.m. (in the sanctuary) and 11:15 a.m. (in Rodney Chapel). Before arriving, please be sure to read our COVID-19 Mask Policy and Safety Measures. To stay up-to-date on developments and changes to this policy, please subscribe to our weekly email newsletter, the Westminster Weekly Word.
[ Details ]

Peace & Justice Thursday Evening Event
National Poor People's Campaign Presents Two Recent Reports on Voters and COVID
Thursday, May 26, 7 p.m. on Zoom
In the 2020 general election, 58 million — or 35% of the voting electorate — were low-income voters, cutting against common misperceptions that poor and low-income people are apathetic about politics or inconsequential to electoral outcomes. The October 2021 report, Waking the Sleeping Giant, reviews the impact of intentional efforts to engage these voters. In addition, the PPC worked with the UN Sustainable Development Solutions Network on the April 2022 report, A Poor People's Pandemic: Mapping the Intersections of Poverty, Race and COVID-19. Come learn about both these reports from national representative of the PPC. Hosted by Westminster's Peace & Justice Work Group. To participate in our Peace & Justice discussions, use the Zoom link above, or go to zoom.us/join, enter Meeting ID 860 2752 1655 and click "Join."
Kids Zone for Ages 4–11
Sundays, 9 a.m.
We are excited about our new Kids Zone program on Sunday mornings! Children ages 4 to 11 are invited to join us at 9 a.m. (parents may attend the 9 a.m. worship service). Kids Zone includes a welcome time, songs, Bible story, games, crafts, snack, and much more. Masks are required for all students and teachers. We will socially-distance during snack time.
Time with Our Children
Prior to COVID-19, every Sunday our congregation received a dose of joy when our children gathered up at the front of our sanctuary to hear and respond to a carefully-crafted, child-friendly message from one of our pastors. We wanted to continue offering these special messages for children in a safe way, so Time with Our Children has gone virtual. Be sure to check out these creative videos for your little ones on YouTube!
Wednesday Afternoon Bible Study
Wednesdays, 12–1 p.m., Zoom
The Wednesday afternoon Midweek Manna Bible Study, facilitated by the Rev. Sudie Niesen Thompson, will begin a study of Luke's Gospel on February 2. New faces always welcome. Please email the Rev. Sudie Niesen Thompson for more information.
Thursday Evening Bible Study
Thursdays, 6–7 p.m., on Zoom
This Bible study, facilitated by Randy Williamson and Mary Anne Peters, continues and new faces are always welcome. Please email the Rev. Sudie Niesen Thompson for more information.
Women's Online Community Group
2nd and 4th Thursday, 5–6 p.m., Zoom
The women of Westminster connect for heartfelt and enriching discussions on the 2nd and 4th Thursday of the month from 5 to 6 p.m. The Rev. Jill Getty facilitates this group on Zoom. If interested, please email Jill and she will add you to the weekly participant email list to receive the Zoom link and password.
Men's Fellowship Group
Saturdays, 9:00–10:30 a.m.
The Men's Fellowship group has resumed. Coffee and refreshments provided. For more information, please email Bill Francis.
Presbyterian 101 Podcast
Episode 1 – By Faith Alone: The Reformation & Beyond
Episode 2 – By Grace Alone: What Presbyterians Believe
Whether you are a lifelong Presbyterian or are new to this Christian tradition, the Rev. Sudie Niesen Thompson is here to answer (some) of your questions. Tune in to our Presbyterian 101 podcast and learn a bit about our denomination's history, theology, and governance ... in other words, what it means to be Presbyterian.
[ Details ]
The Westminster Choir will present Till the Vaults of Heaven Ring: Songs of Praise, Remembrance, and Hope on Sunday, May 22, at 3 p.m. The concert will include anthems by Donna Buttler, Craig Courtney, Mack Wilberg, and Brahms's How Lovely Is Thy Dwelling Place. The choral concert will be supported by bagpipes, trumpets, percussion, piano, and organ. All are invited. A free-will offering is requested. Please join us in person or livestream over WPC's YouTube channel.
[ Details ]
---