Sermons
Latest:
That Your Joy May Be Complete: A Sermon for Mother's Day
The Rev. Sudie Niesen Thompson
05/09/2021

Christian Education and Fellowship
All Are Welcome
COVID-19 LIMITED OFFICE HOURS: TUESDAY – THURSDAY, 9:00 AM – 4:00 PM

New here? Learn more about us and fill our our visitor form. »
What's Going On?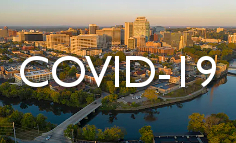 Message from Gregory Knox Jones
"Two quick Mother's Day stories. After visiting her mom for the weekend, a 40-something daughter drove the 250 miles back home. Once she unpacked her car, she was frantic. Where were her laptop and the important medical papers she needed to take to the doctor?" Click here to continue reading the latest letter from Greg Jones dated Tuesday, May 11, 2021.
Ways to Help Others During COVID
The global impact of COVID-19 is unprecedented. For vulnerable populations – those who are homeless, hungry, out of work, living in communal settings – and for those living in vulnerable communities around the world, the effects of this crisis are even more devastating. They need our help more than ever.
Support Locally – Click here for a list of needs in our local community.

Support Globally – Gifts can be designated to directly support emergency relief projects of partners in Congo, Guatemala, Palestine, and Syria. For details and to contribute, please use this form.

With deep gratitude for your generosity and compassion. Thank you for being part of God's light shining through the darkness.
[ Details ]
Livestreamed/Recorded Worship Service
We livestream our 9:00 AM worship service on Sunday mornings! Access our YouTube channel as early as 8:50 AM. When you get to our YouTube channel, you will see a large box in the center of the screen that says "Live." A recorded version will be provided on our YouTube channel after the livestream. Please also visit the Time with Our Children playlist to view the children's message (your little ones will love these!). To enhance your worship experience, we encourage you to download the accompanying Worship Bulletin. At the end of the Worship Bulletin, we have included this week's resources from Illustrated Ministry for worshiping with children.
In-Person Worship Service
Our sanctuary is open on Sunday mornings for one worship service at 9:00 AM. Attendance is limited and an online reservation (one per family) is required. When we reach the maximum number of reservations we can safely host, the reservations will close. We have established guidelines for your safety, which include social distancing, wearing a mask, and the use of no-touch sanitizing stations. IMPORTANT: If you would like to join us for in-person worship, please subscribe to our weekly e-newsletter; the link to make a reservation is only being provided in our e-newsletter at this time.
[ Details ]

Peace & Justice Thursday Evening Events
Deconstructing White Privilege
Thursday, May 13, 7:00 PM on Zoom
What comes to your mind when you hear the phrase "White Privilege"? Have you ever thought about it in the context of your own life? Have you ever talked about it with other people? If it is real, in what ways does it manifest itself? What does it mean for someone to be White? Join us as we view and discuss the powerful, thought-provoking 22-minute video "Deconstructing White Privilege" by Robin DiAngelo, author of White Fragility. This is sure to be a meaningful experience for all involved. Hosted by Westminster's Peace & Justice Work Group. To participate in our Peace & Justice discussions, use the Zoom link above, or go to zoom.us/join, enter Meeting ID 860 2752 1655 and click "Join."
Cooking with Company: Youth Co-Host Edition
Sunday, May 16
12:00 – 1:00 p.m. on Zoom
The deacons are sponsoring an interactive virtual cooking event on Sunday, May 16, from 12:00 to 1:00 p.m. Youth co-hosts will lead us in making delicious chocolate whoopie pies with cream cheese filling. According to Amish legend, when children would find these treats in their lunch bags, they would shout "Whoopie!" Please read the recipes and be prepared with the ingredients needed to create this delectable treat. Mark your calendars and join us in the fun!

• Chocolate Whoopie Pie
• Cream Cheese Filling

Join us on Zoom! Zoom Meeting ID: 728 294 8556. No password needed.
Time with Our Children
Prior to COVID-19, every Sunday our congregation received a dose of joy when our children gathered up at the front of our sanctuary to hear and respond to a carefully-crafted, child-friendly message from one of our pastors. We wanted to continue offering these special messages for children in a safe way, so Time with Our Children has gone virtual. Be sure to check out these creative videos for your little ones on YouTube!
Presbyterian 101 Podcast
Episode 1 – By Faith Alone: The Reformation & Beyond
Episode 2 – By Grace Alone: What Presbyterians Believe
Whether you are a lifelong Presbyterian or are new to this Christian tradition, the Rev. Sudie Niesen Thompson is here to answer (some) of your questions. Tune in to our Presbyterian 101 podcast and learn a bit about our denomination's history, theology, and governance ... in other words, what it means to be Presbyterian.
Midweek Manna Bible Study
Wednesdays, 12:00 – 1:00 PM
on Zoom
Join the Rev. Sudie Niesen Thompson for "Midweek Manna" on Wednesdays from 12:00 to 1:00 PM on Zoom. The group is continuing our study of Exodus and will soon decide where to turn next on our journey through Scripture. Join us! New faces always welcome! Please email Sudie for the Zoom information.

Women's Online Community Group
The women of Westminster connect for heartfelt and enriching discussions on the 2nd and 4th Thursday of the month from 5:00 – 6:00 PM. The Rev. Jill Getty is facilitating this group on Zoom. If interested, please email Jill and she will add you to the weekly participant email list to receive the Zoom link and password.

Youth Ministry (Grades 6 – 12)
180 Youth Ministry meets every week, either virtually or in person (socially distanced and masked). See the Weekly Word e-newsletter or our Instagram account (@180youth_wpc) for updates.
[ Details ]
The Wilmington Handbell Ensemble, under the direction of Mr. Kerry Dietz, will present its 2021 Spring Concert, Remembrance & Renewal, on Saturday, May 15, 2021, at 4 PM, at Westminster. The concert will include music to remember those who died in the 2020 pandemic, that they may not be forgotten; and to celebrate the resilience of the human spirit with the dawning of each new day.

Joining the handbell ensemble will be Dr. F. Anthony Thurman performing works for organ and handbells and organ solo. A Tower Chime recital will be offered at 3:40 PM.

In-person attendance is limited, and a reservation is required. Click here to make a reservation to attend in person. The concert will also be livestreamed on Westminster's YouTube channel.

A free-will donation of $10 per person is requested to Westminster's Music Fund.
[ Details ]
---