The seeds of our congregation were planted in 1857 when Central Presbyterian Church, located at 8th and King Streets in Wilmington, organized three Sunday Schools.
One of these, the McDowellville Sunday School, was located near the city's "Forty Acres" residential area just west of the Baltimore and Ohio railroad tracks; this area had become home to the families of Scotch Irish immigrant mill workers. This Sunday (Sabbath) School was held in the McDowellville School House, where everyone gathered for Bible lessons in one large room.
The school soon moved to a room over a store on Pennsylvania Avenue and Lincoln Street. In 1865, Central Church built a wood frame building (Rodney Street Chapel) at 14th and Rodney Streets on property owned by Robert Smith, who leased it to the congregation for $1.00 a year.
The congregation's first church building on the corner of 13th and Rodney Streets was dedicated on December 2, 1883. It remains the oldest part of the existing structure.
In 1886, Rodney Street Church was formally organized, and the deed for the property was secured from Central Church. The original charter lists 55 members: 48 from the Central, Green Hill, and West congregations, along with seven new Presbyterians. The Rev. William Leonard McEwan was called as the first pastor and, after his installation, the congregation grew rapidly. The year 1886 also saw the establishment of the Women's Missionary Society.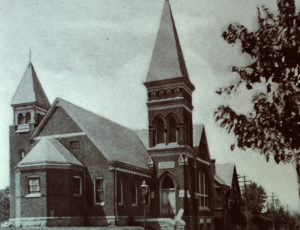 On June 22, 1910 the congregation unanimously voted to adopt a new name – Westminster Presbyterian Church. The next month construction began on the Gothic-style sanctuary where our congregation continues to gather for worship. Over the years, Westminster's beautiful campus has expanded to meet the needs of our congregation and the wider community. Notable changes include: creating a Memorial Garden, where many of our congregation's saints have been laid to rest; establishing a Community Garden, where Westminster members and neighbors tend God's good creation; building a Community Hall to house fellowship events, educational programs and mission initiatives; and acquiring three neighboring properties in order to provide transitional housing in partnership with Friendship House.
From the charter of Rodney Street Church in 1886 to the present, this community of faith has been a faithful witness to the Gospel of Jesus Christ on the corner of 13th and Rodney Streets. As a church that is "reformed, always in need of being reformed according to the Word of God," the Westminster congregation strives to build upon its rich history while always discerning how God's Spirit is calling us to be a faithful presence in our community, here and now.
For information about our stained glass windows, pipe organ, and sculpture art, see Music + the Arts.